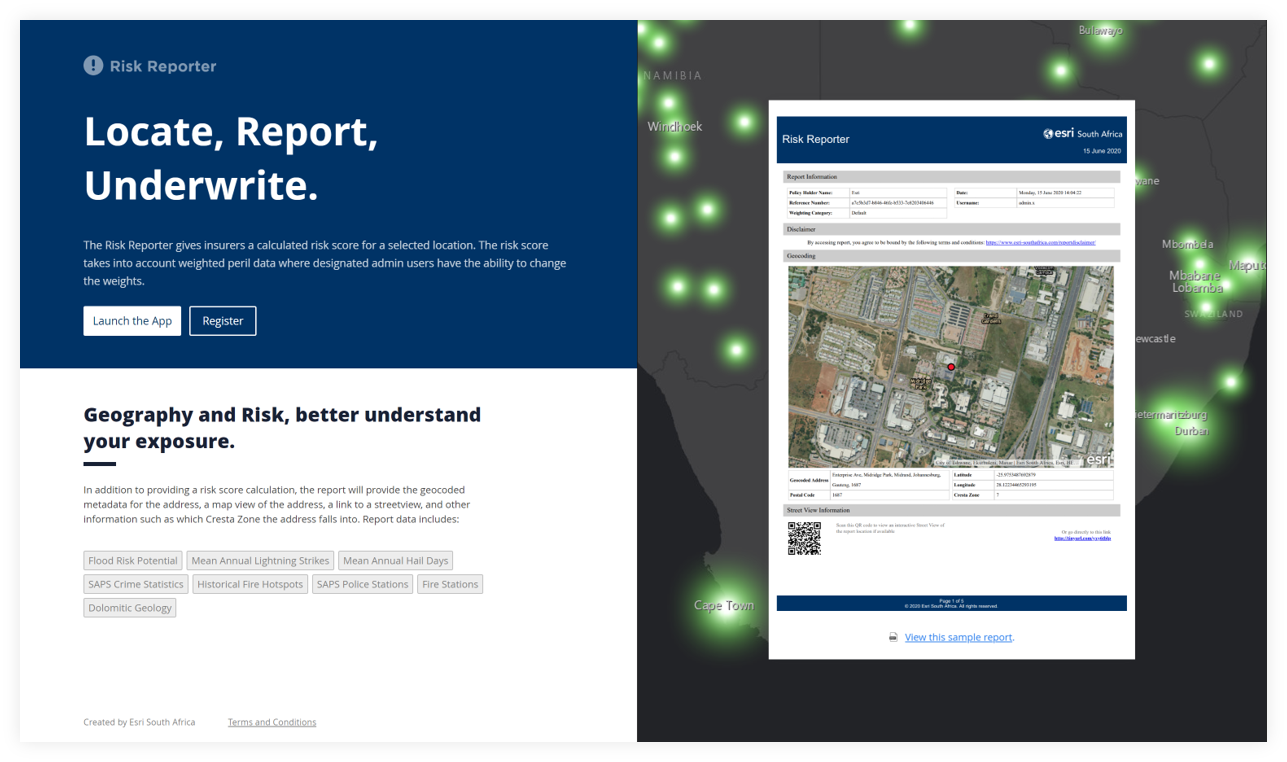 Mitigate

Risk
Insurance companies are increasingly relying on location intelligence solutions to complement their existing BI and analytics processes to make more informed decisions. ArcGIS for Insurance leverages the "where" component of business data to help brokers, insurers, and reinsurers derive meaningful location-based insights to solve specific business problems. ArcGIS for insurance can be implemented for both personal and commercial lines across different sectors of business.
ArcGIS
 for Insurance
Leveraging the worlds leading location intelligence software to support typical workflows and use cases in the insurance industry. 
Location/Spatial Analytics
Add another dimension to your analysis with our wide range of powerful analysis tools. Analyse seemingly unrelated data to reveal patterns, trends, and relationships that are impossible to see on a spreadsheet. Location analytics in ArcGIS software provides an easy way for insurance companies to discover unknown problems, model situations, and implement the best solutions to minimize portfolio risk.
Geocoding and address validation
Know where your policyholders live and work. Take your address data and geocode them into coordinates to start mapping and analysing.
Mapping and Visualisation
Visualising data on a map is more effective than presenting it in static tables. Use ArcGIS technology to create maps of business data and analyse results.
Field Mobility
Improve the efficiency of risk assessments with our range of field mobility mobile apps.  Having accurate assessment information helps to identify the likelihood of loss, which is critical for providing proper coverage and expert service.
Third party geographic datasets
We provide a variety of third party datasets to enhance analysis. These datasets cover themes such as administrative boundaries, postal code boundaries, cresta zones, demographics, population, land use, crime rates and flood zones.
"Indwe has been using the services of ESRI for a number of years now. Their attention to detail, prompt responses and suggestions on how to make best use of their platform has always been of a very high standard. This has enabled us to overlay our client data with numerous relevant ESRI data sets in such a way that it adds significant value. In recent years the platform was of great assistance in allowing us prompt proactive interaction with our clients during the Knysna fires as well as numerous flooding's in different parts of our country."