Become a digital miner with our Intelligent Spatial Mine. Use smart maps to increase productivity, reduce cost and mitigate risk.
Understand how your problems relate to the world around them. Leverage smart maps, spatial analysis and advanced enterprise information management across the mining value chain from exploration, to operations, to rehab and all cross-cutting functions such as health and safety, environmental management, engineering, security and more.
Solutions
We have tailored solutions to meet the challenges in your part of the full mining value chain. Explore the solutions available in your discipline.
Services
Our experienced professional services team offer all you need from strategic planning, to implementation, support and skills development.
Community
Communicate and collaborate with your peers – see how technology is being applied in similar organisations and build your network.
Find the solutions that suit you by browsing your area of interest below.
Transform your day-to-day tasks into optimised, digital processes 
ArcGIS for Mining is the first modern, enterprise-ready spatial information platform available in the mining industry. It provides an intuitive, easy-to-use web and mobile apps to access data and information from across the operational mining process from data collectors to knowledge workers to executive decision makers – an intelligent spatial mine.
Using geographic location, ArcGIS for Mining enables data from multiple sources to be easily integrated and viewed as layers together in the same view. Combined with advanced digital data integration and capture tools, it provides an unprecedented common operating picture of a mine to users anywhere, any time and on any device. This enables users to quickly and proactively identify patterns, causes, risks and more by applying basic geographic analytical principles.
See how you benefit from this with our featured capabilities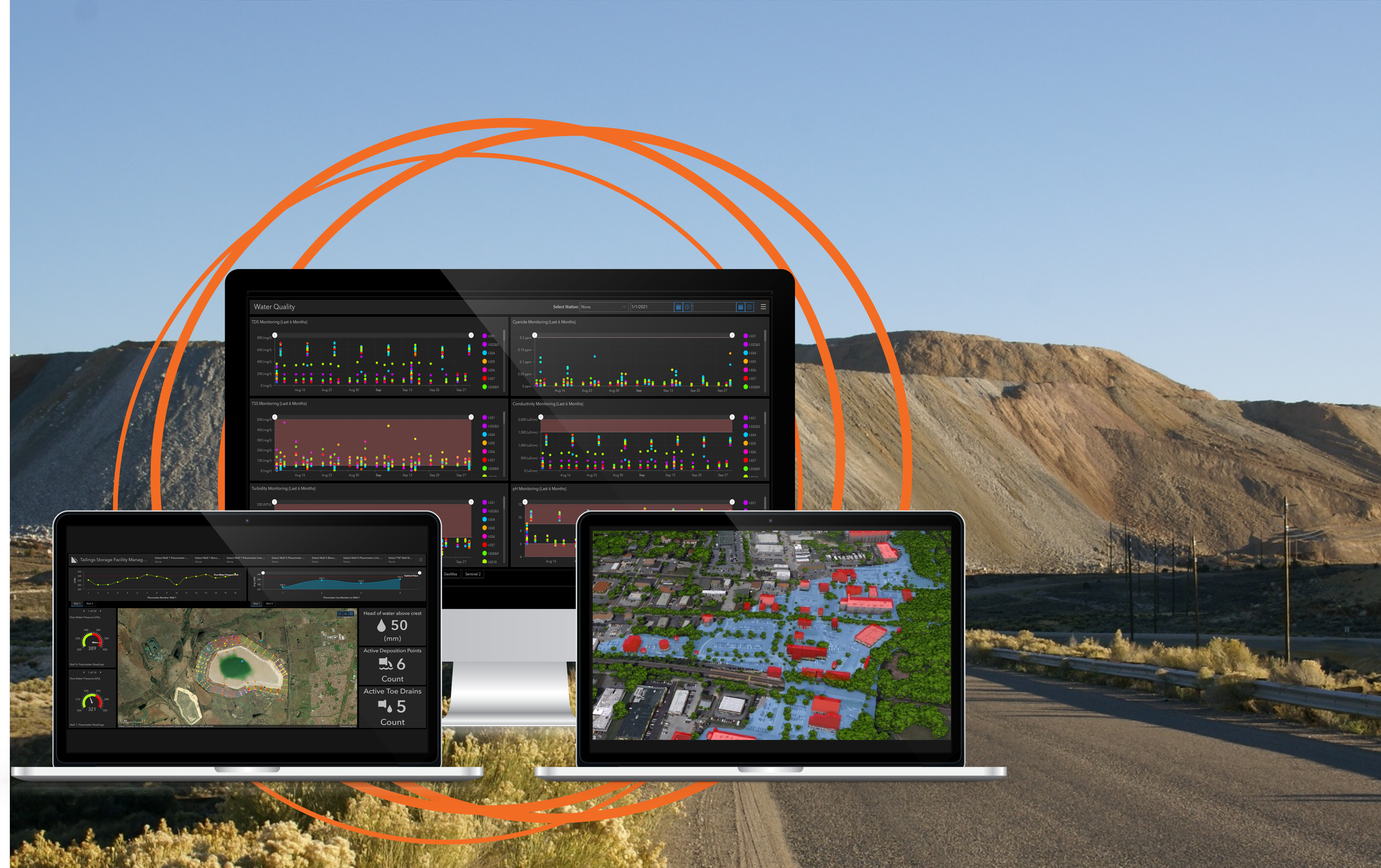 Complete Tailings Management Solution
Create a single screen to oversee and get deep insights of your tailings facilities including collecting, storing, analysing data and presenting it to various stakeholders with interactive apps.
Environmental Monitoring Suite (Remis)
Proactively monitor environmental parameters across your operation – import IoT, database and file-based sensor data and generate your required legislative reports as well as interactive dashboards.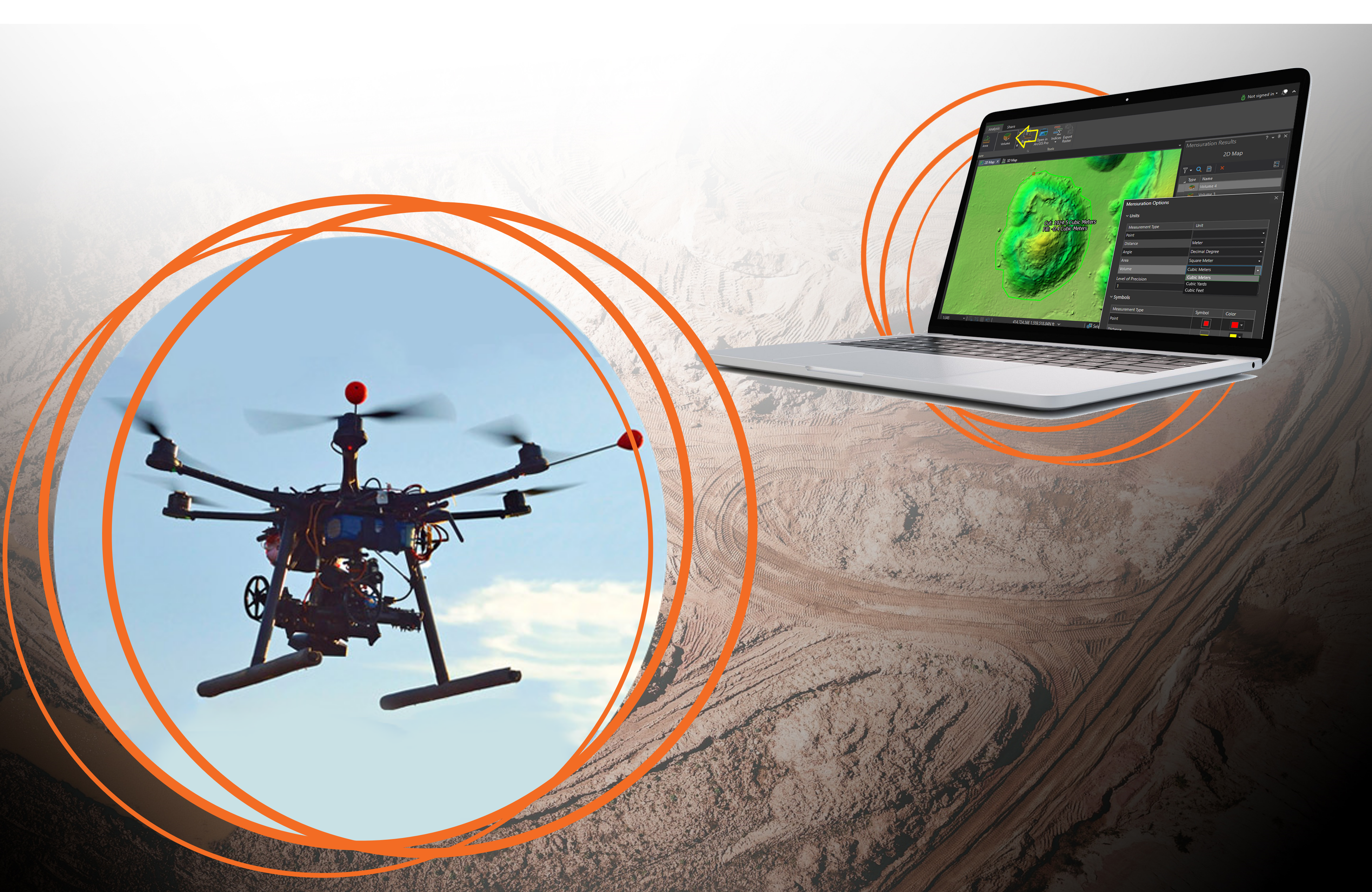 Aerial Survey Solution
Unlock the flexibility of drone imagery capture and streamline the process of acquisition, processing and sharing of high-precision data products into your organisation.
Modernise your geodata management, multi-criteria AI-based analytics and share results easily
ArcGIS for Mining supports various aspects of the mineral exploration field and has been the de-facto standard for mapping exploration activities for over 20 years. Geologists use ArcGIS as the go-to tool for managing global-scale datasets, performing desktop studies, managing sampling and borehole data and more. This desktop use has evolved into Enterprise systems for helping large-scale organisations manage teams and data across regions.
See how you benefit from this with our featured capabilities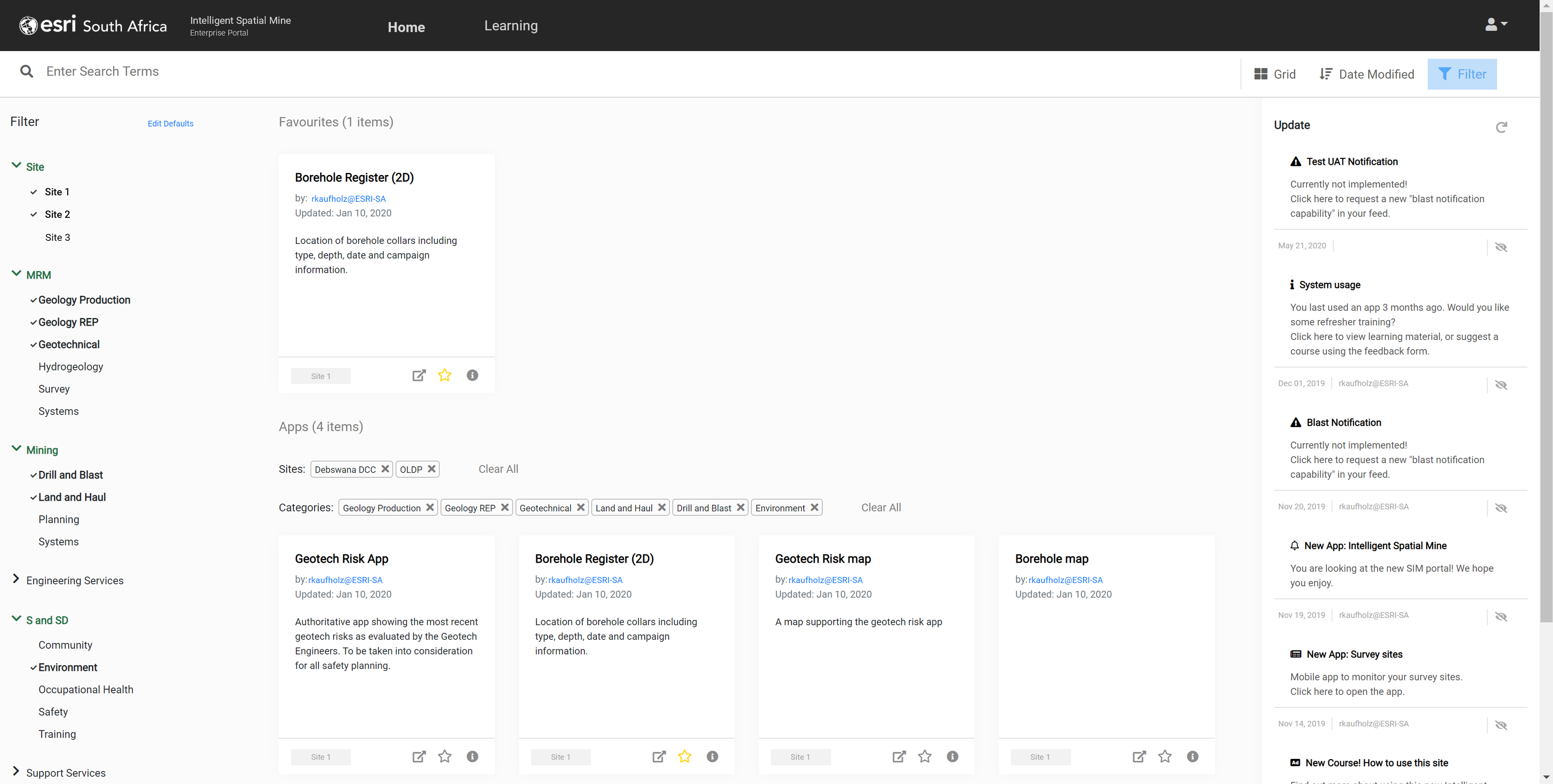 Mineral Exploration Portal
Provides a centralized, integrated view of all your exploration data and augments this with externally sourced high quality datasets from Esri and beyond. With an intuitive user experience, unlock your potential with direct data preview, analysis, download, reporting and more from a secure web browser.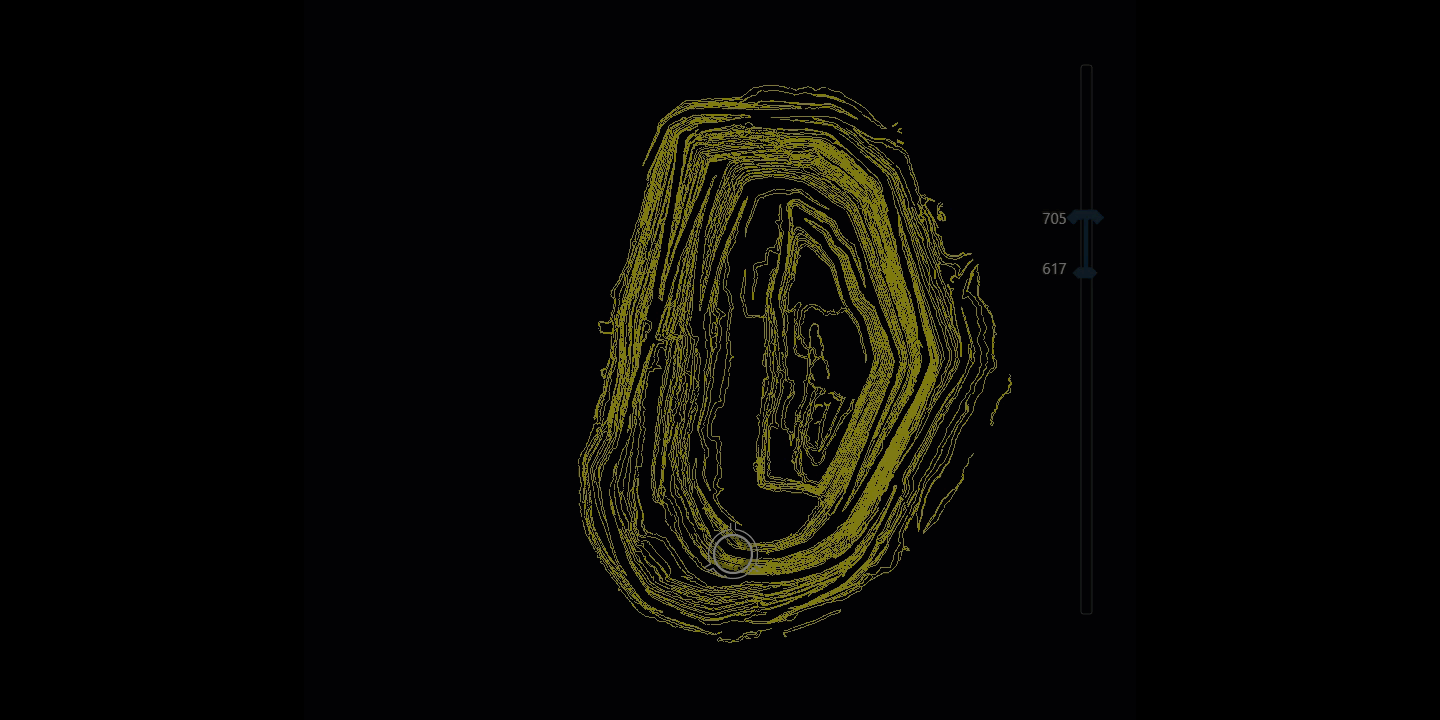 Resource Feasibility & Evaluation
Enable high-performance, scientific interpolation using various methods to create surfaces and solids from your sample data. Produce high resolution, high quality outputs for review and sharing to improve overall success in target generation.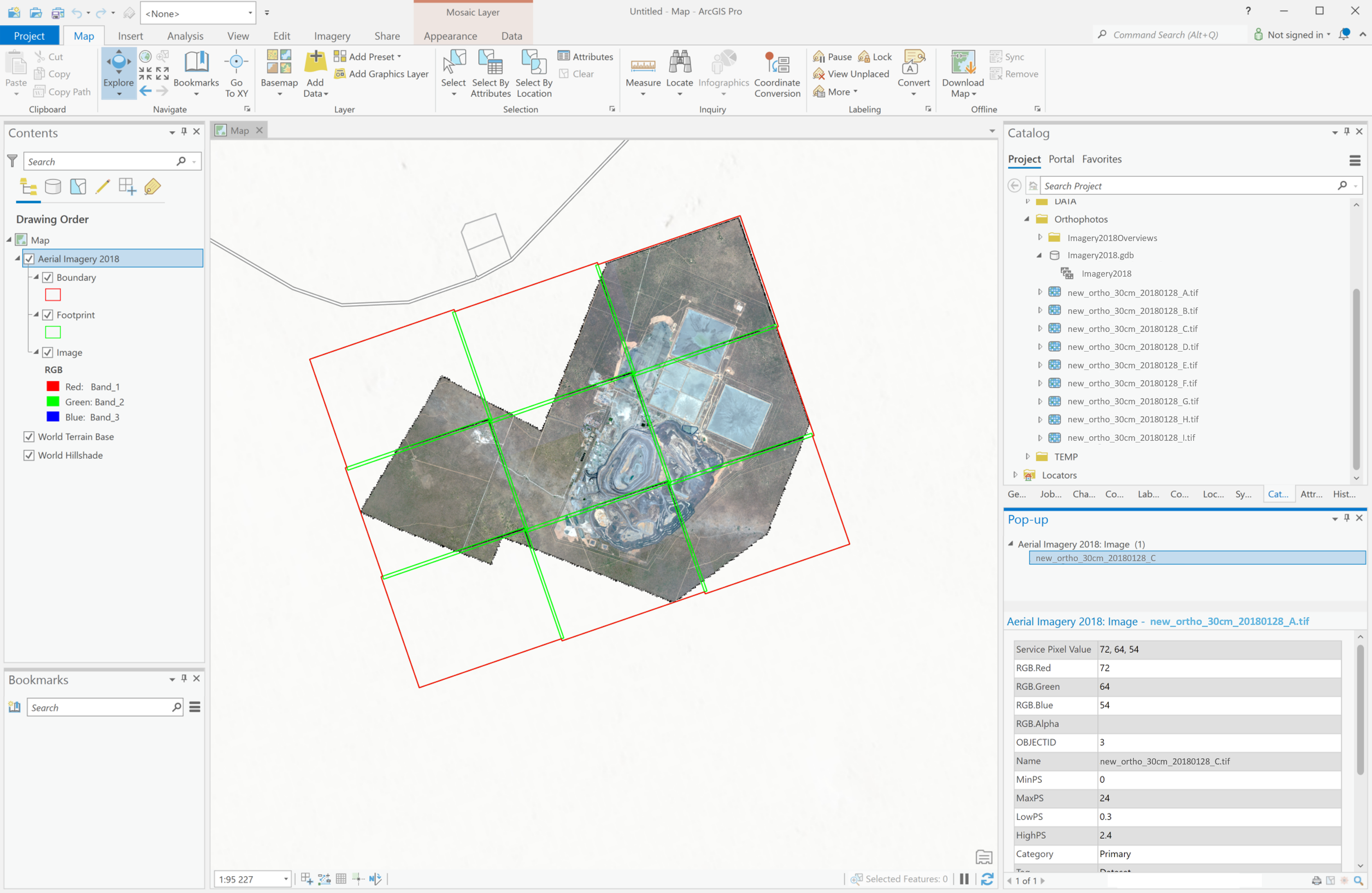 Project Data Management
Support your project data needs by organizing huge collections of raster data (imagery, geophysics, geochem, etc.) and allow users to easily view, share and analyse this data directly in a web browser. Enable big data analytics with high performance, distributed computing and open the opportunities provided by AI.
Remove silos, improve efficiencies and enhance data integrity across your technical systems 
ArcGIS for Mining provides a comprehensive information sharing platform that enables specialists and decision makers across the business to easily view, analyse and report of crucial datasets often locked up by proprietary or legacy systems. Unveil your latest mine designs, geological models, real-time tracking, and more to the right people at the right time using advanced automation and analytics.
See how you benefit from this with our featured capabilities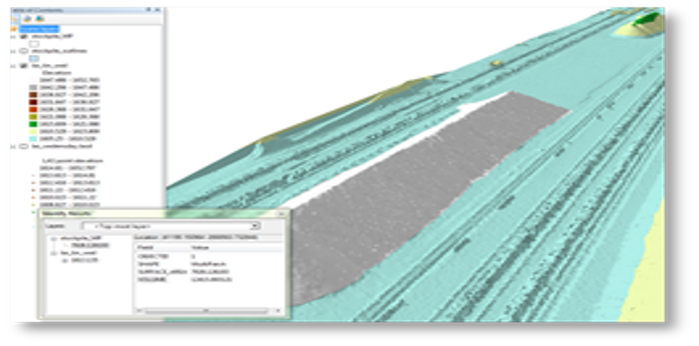 Stockpile Management
Use survey inputs from total stations, drones, or satellites to calculate current volume and compare with previous (delta) and display as a thematic map to quickly identify issues and take immediate action. Rehabilitation Cost Monitoring
Increase the accuracy of rehabilitation cost estimates by utilizing the latest authoritative data in an integrated analytics workflow. Share the information to the appropriate decision makers through a dashboard to support better decision making.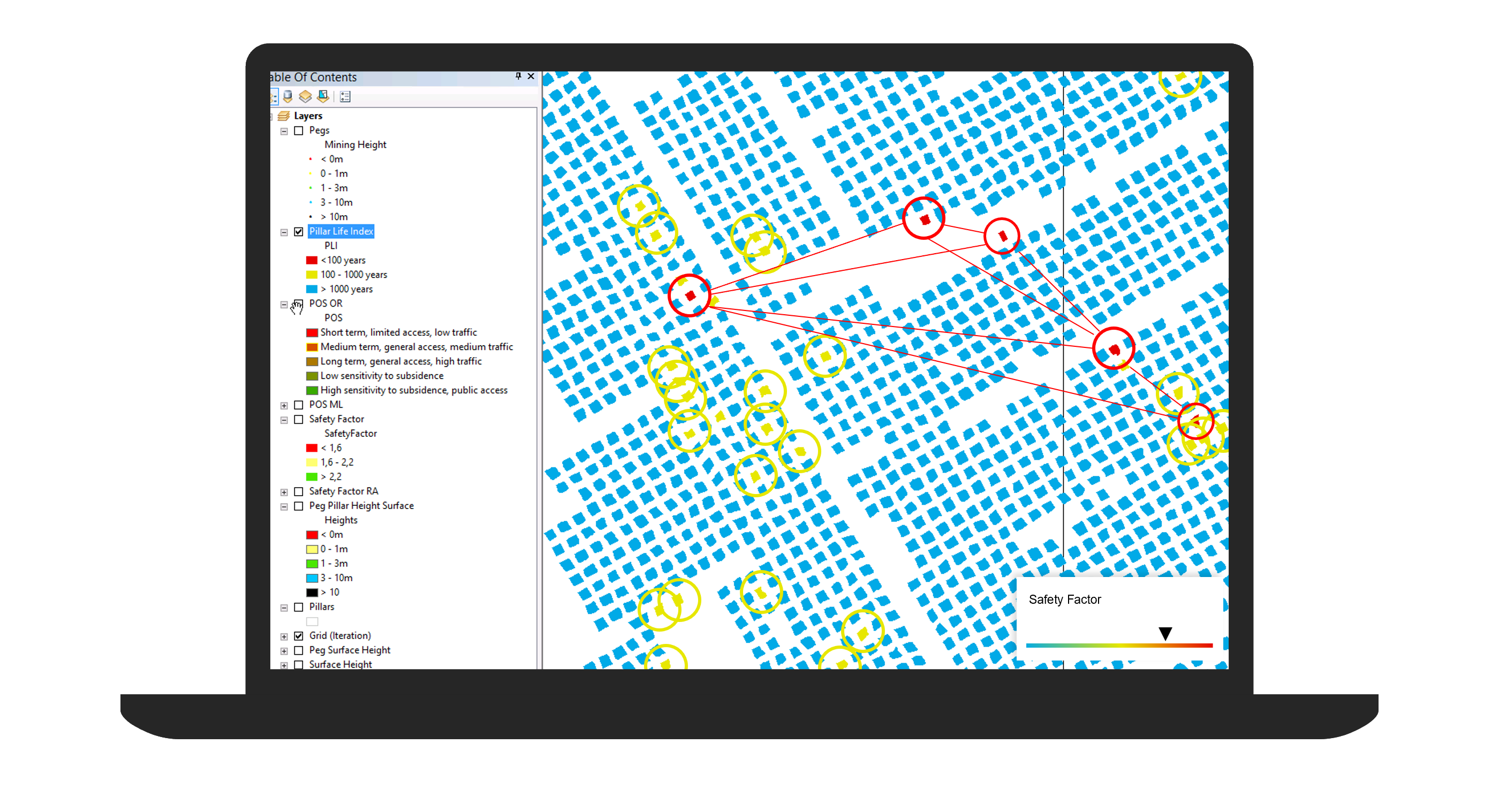 Pillar Safety & Strata Defects
Automatically calculate the safety risk factor based on the size, shape, clustering, rock density, overburden, etc and report via a standardised index to support reduced risk. Digitalised process for capturing, measuring and addressing pillar irregularity observations.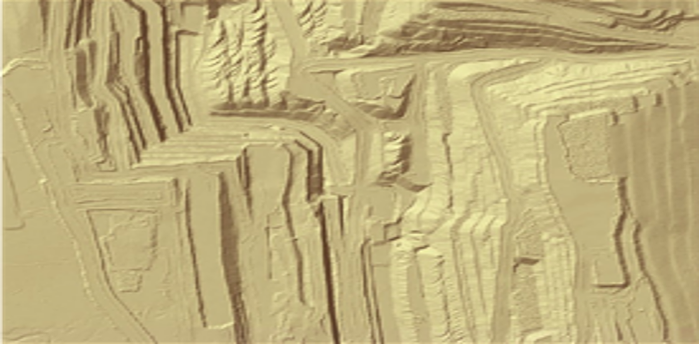 Compliance to Design
Incorporate sensors, satellite and drone data feeds to dynamically recalculate a terrain model for your land management activities – supporting survey, safety and production teams meet targets and work efficiently.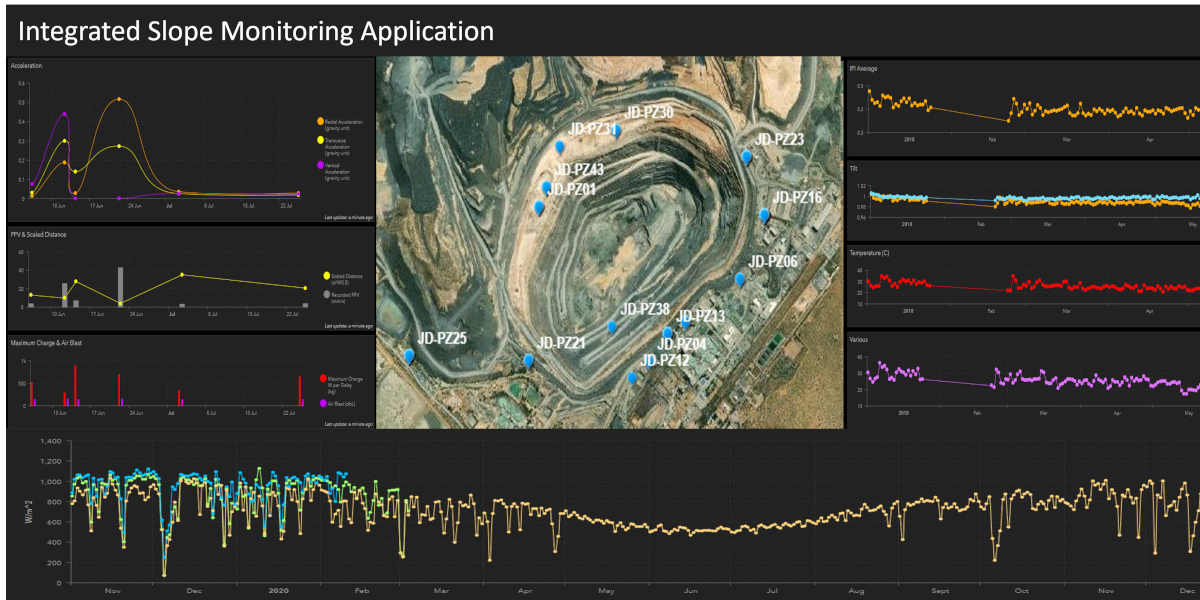 Integrated Slope & Ground Movement Monitoring
Quickly visualise slope movement in the context of existing pit, infrastructure and equipment. Identify patterns over time in a single dashboard from various integrated physical slope monitoring systems.
Achieve your sustainability goals, statutory requirements and social license to operate
ArcGIS for Mining geo-enables your health and safety processes to allow for better insight in risks and their mitigation, capturing incidents and allows you to run prediction models to understand exposure across space and time.
It also provides a range of capabilities to support better planning, monitoring, mitigation and regulatory processes within responsible mining organisations to reduce the overall impact on the environment.
Bring all your ambitions plans together to plan, monitor and report on progress easily and within environmental context.
See how you benefit from this with our featured capabilities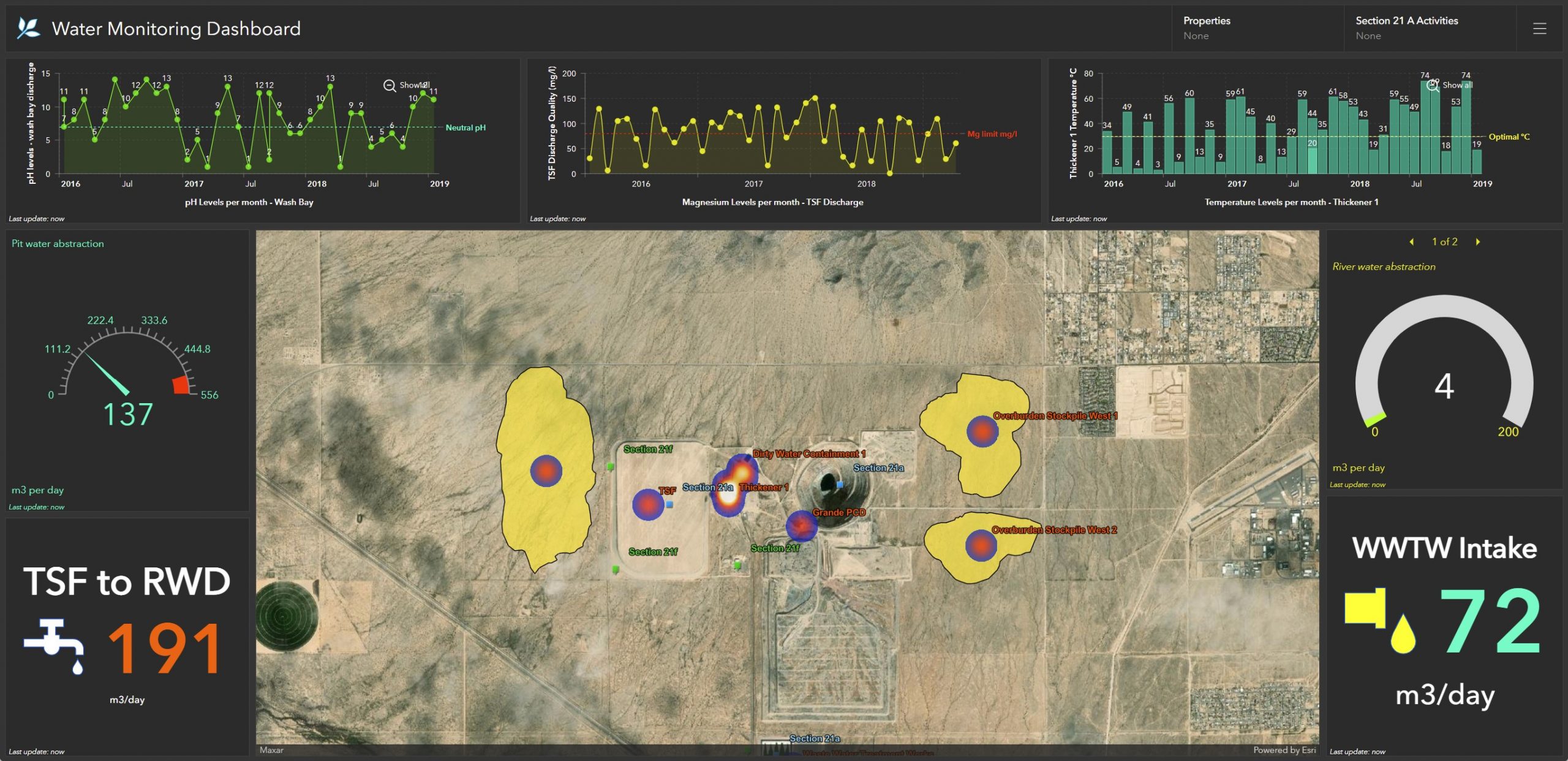 Water Balancing & Management
Visualise and analyse current and historical water use from real-time borehole monitoring in order to better optimise usage. Biodiversity Mapping
Track, report and mitigate your biodiversity footprint to meet and exceed your organisation's ESG goals. Support action-based mitigation and remediation workflows and configure custom self-service reports for your stakeholders.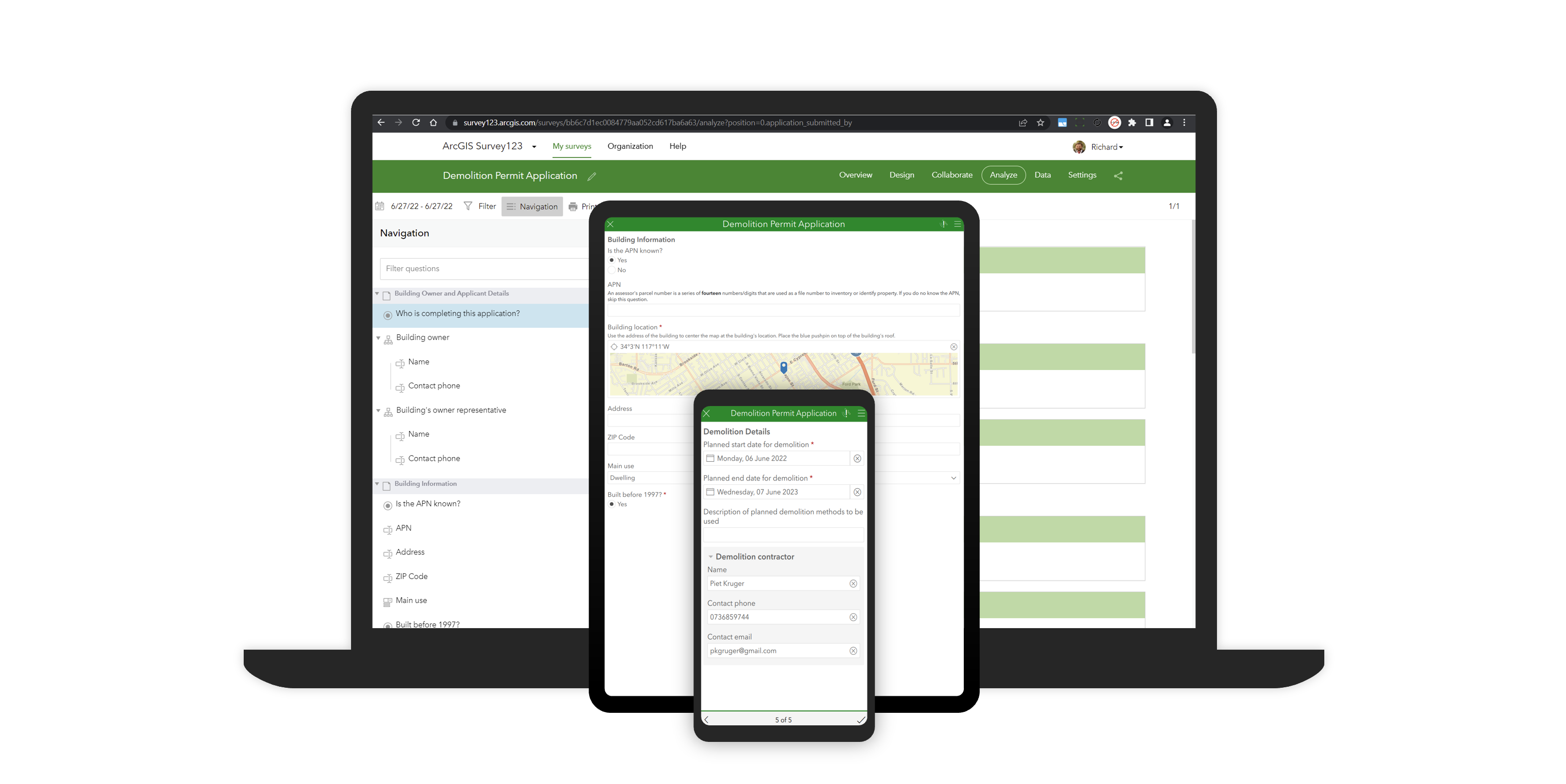 Community Engagement Survey
Empower your field teams with an easy to use mobile app to capture details of community engagement including personal details, location and photo(s) to support community-based programme management and impact assessment.
Accelerate and geo-enable your digital transformation journey 
ArcGIS for Mining is a modern, enterprise technology system that supports and enhances your modernisation strategy and gives it a competitive edge by leveraging the power of location. Your strategy may include cloud migrations, mobility solutions, customer and employee engagement, change management and more and ArcGIS is architected to accelerate and geo-enable these processes.
Talk to our consultants about setting the vision, defining strategy, understanding the business landscape and executing on key initiates to achieve 4IR readiness.
See how you benefit from this with our featured capabilities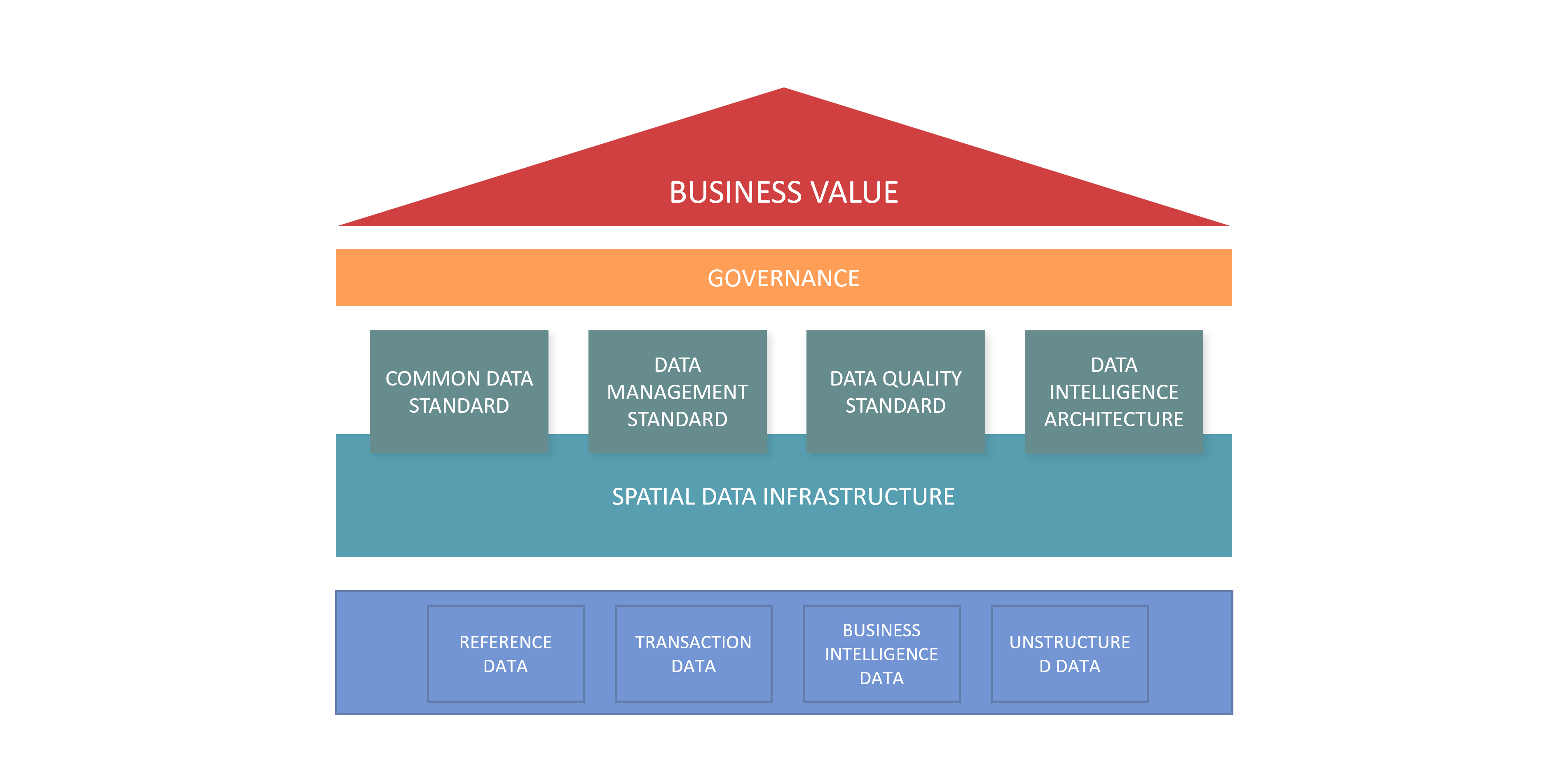 Strategy and Policy Development
Implement actionable strategies, operating models, governance frameworks as your organisation matures on the digital journey, by leveraging our expert consultants and global best practices. Safety Incident Risk Manager
Spatially analyse incident locations to identify trends (hotspots) over space and time with exception analytics for incidents occurring in high and/or low risk areas. Use this information to implement mitigation measures that will reduce overall number of incidents. Land and Mineral Rights Management
Manage records of land ownership, contact details, engagement history, compensation owed/paid and enable universal access to authoritative view of this data to the stakeholders that need it.
ArcGIS for Mining is an integrated information system, which means a big part of what it does is collate data from existing systems for the purposes of visualisation and analytics. At Esri South Africa, using the available tools within ArcGIS, we have successfully integrated many common mining systems and formats, including technical and business systems alike. Browse through the examples below to see if we can help create the right building blocks for your unique environment.
File-based ETL
MicroStation
Direct Integration
IsoMetrix
Direct Integration
SharePoint
Direct Integration
Autodesk REVIT
Direct Integration
Geosoft
Database Connect
Reconciler
Database Connect
Wencomine
Database Connect
Dispatch
Database Connect
Logchief
Database Connect
Terrain Assist
Direct Integration
Discover
Database Connect
HydroGeoAnalyst
File-based ETL
Add yours here…
Database Connect
Add yours here…
Web Services
Add yours here…
Web Stream
Add yours here…
Browse our partner network to see how we work together to help you implement better solutions, faster.

Spatial Dimension (A Trimble Company)

acQuire Technology Solutions

Seequent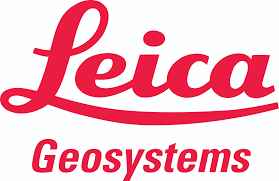 Leica Geosystems

Worldsview Technologies

Autodesk

Datamine Software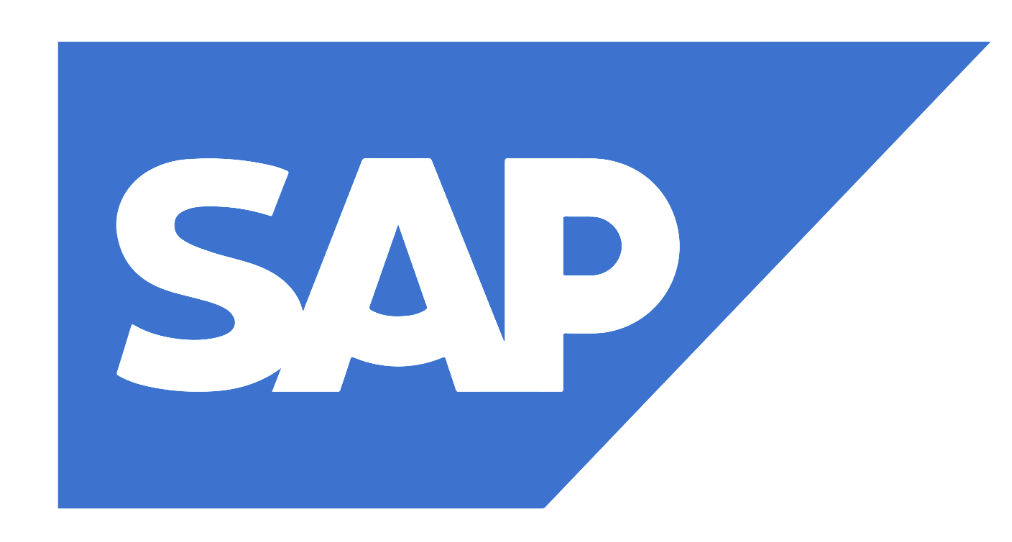 SAP

Microsoft

Swift Geopspatial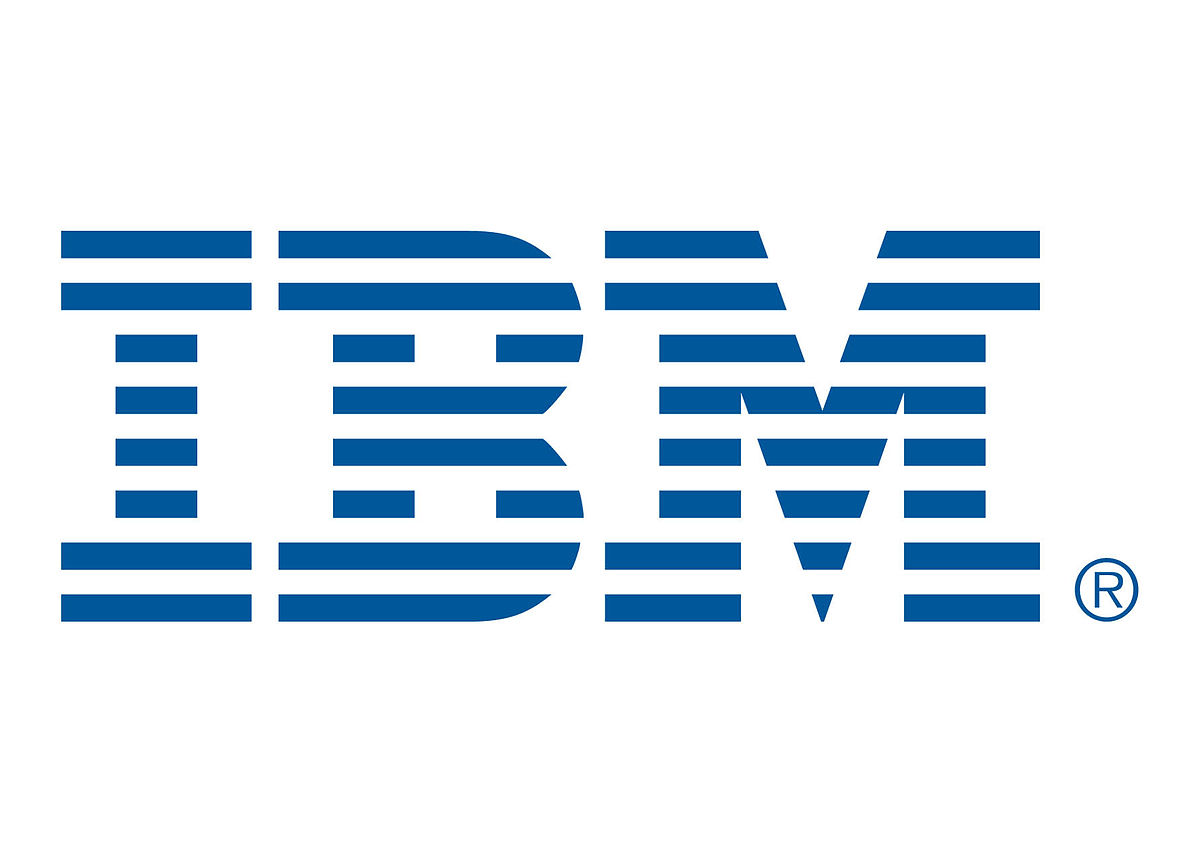 IBM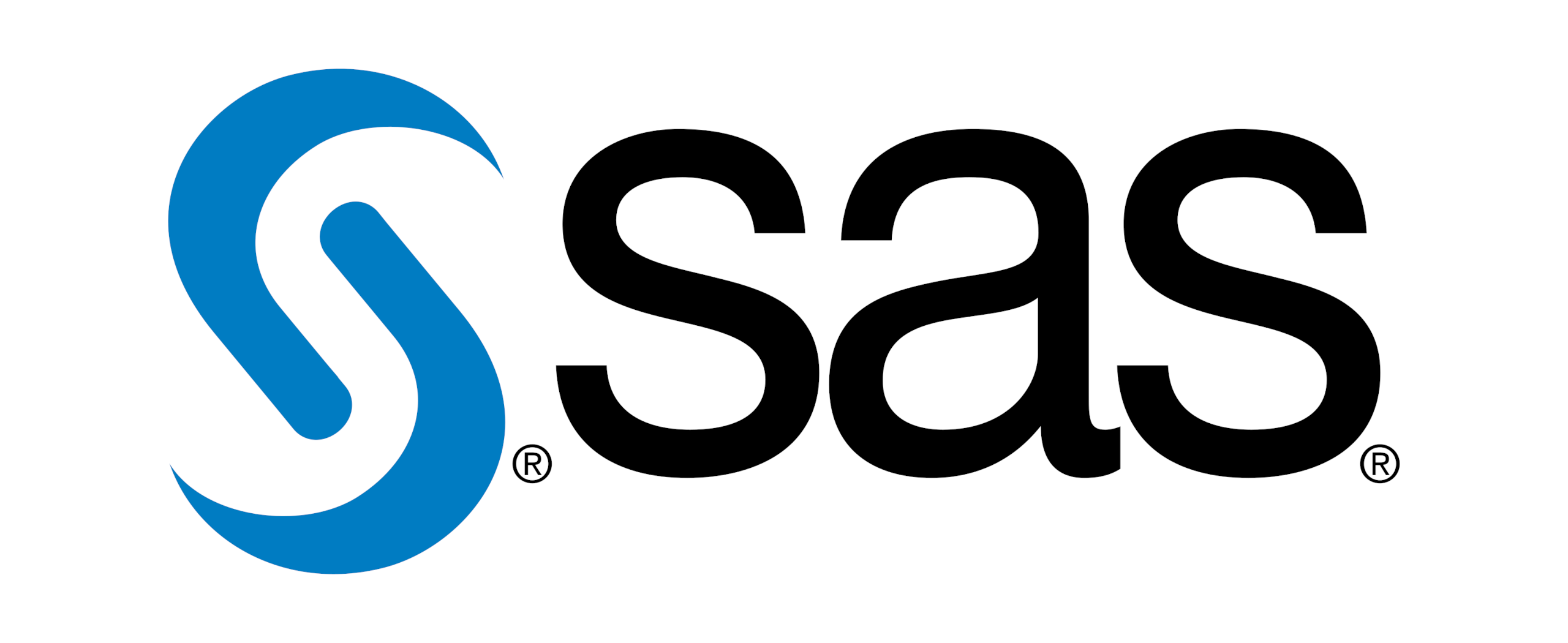 SAS

Geosense
MAP Scientific Services

Voyager Search
VertiGIS Studio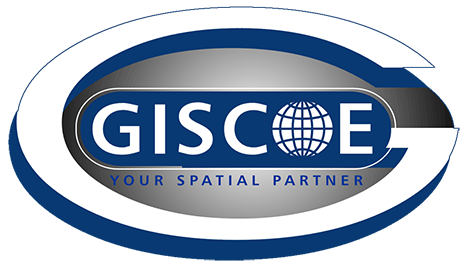 Giscoe